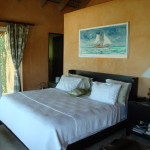 Las Caracolas can accommodate up to 10 guests. The villa has 3 spacious suites, with their own bathrooms and walk-in closet. All rooms have their own unique view.
The Master Suite has a king-size bed, a sofa, and a large terrace with its own relaxing and dining area. The suite has an amazing view of the beach, the sea and the southern coast of Samana.
The River Suite has two queen size beds, a sofa and a terrace. The suite has a view above the river behind the villa.
The Beach Suite has two queen size beds and a sofa. From the terrace, you are only a few steps away from the beach and into the water. A perfect way of waking up.