For your stay we can prepare a varied menu including Dominican and International meals. Each dish will be carefully selected, created with prime ingredients, including local and exotic fruits and spices.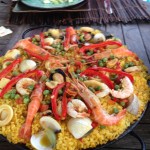 Enjoy a barbeque on the beach, a fresh seafood paella or any of our "a la carte" arrangements of your selection. Your staff will be more than pleased to make each of your meals a unique experience, serving them in our indoor dinning room, the private terrace, or under a star-filled sky.
In case you wish to explore the beautiful surrounding areas or other parts of the island, a picnic basket can  be available for your adventure.
Your own beach party? Special occasion? We would love to prepare it for you!